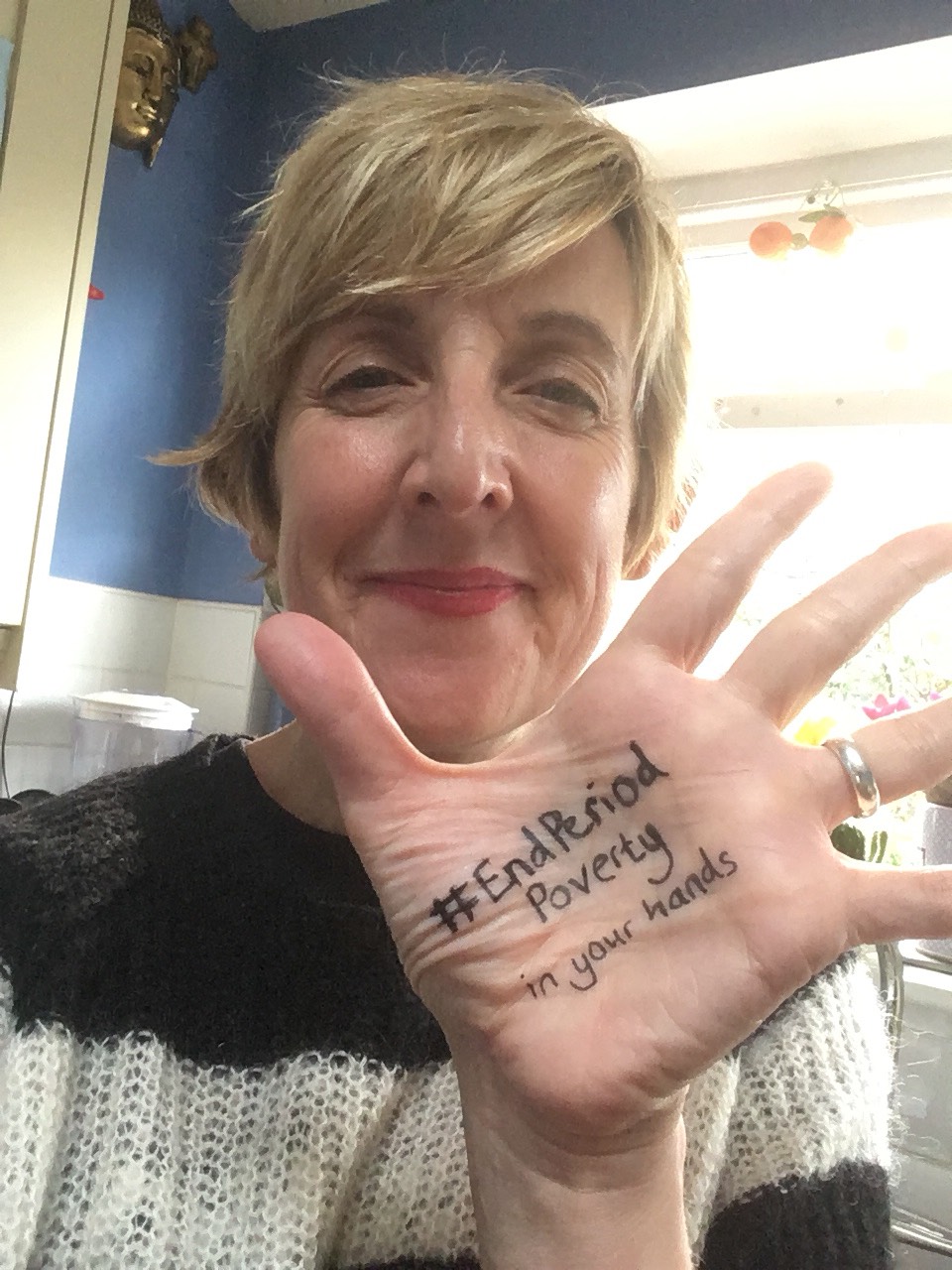 WOMEN'S HEALTH & WELLBEING PROGRAM
Julie Hesmondhalgh is our first IYH Ambassador and we are delighted that she has launched our campaign to raise awareness and to help end period poverty in Nepal.  Please follow our social media links and blog to see what we are doing.
Please show your support by taking a selfie like this and tweet and/ or post on Instagram with a shout out for IYH.    #EndPeriodPoverty   #InYourHands     #Nepal
Instagram: Inyourhandscharity
This page is about our strategy. It has become very apparent during our involvement with building in rural communities, that there is a huge need to help girls and women with health and hygiene issues.
We have spoken with some very experienced and passionate people who have explained some of the things that can be done to make life so much more healthy and easier.
We have teamed up with Jan McNeil from Rotary in Canada who will help us to fund this program. They have identified health and well being projects as one of the areas they want to focus help on. This has become the perfect partnership with IYH because girls do not come to school when they have their period and are therefore missing a good education, simply because they do not have resources to help them such as sanitary towels and separate female toilets.
Our strategy is to help not only the children in our schools but the communities they live in. This is the reason we are extending the benefits of the program to all mothers, teachers, sister and females in each community we are working with.
Our strategy will involve partnering with local organisations to deliver mobile workshops on menstrual health and hygiene, and the distribution of reusable  sanitary kits. Our goal is for a sustainable impact and we're exploring ways to help our IYH communities become self-sufficient in the production of these kits.
The IYH Project Coordinator is Sue Adlam-Hill who has been a supporter of our work in Nepal since visiting our IYH communities in February 2018.  More news to follow!
We have teamed up with the internationally acclaimed charity Days for Girls.
This is their mission statement:
"Days for Girls increases access to menstrual care and education by developing global partnerships, cultivating social enterprises, mobilizing volunteers, and innovating sustainable solutions that shatter stigmas and limitations for women and girls.
Together, we're creating a world with dignity, health, and opportunity for all.

Our movement has reached more than one million girls — and counting!  
With your help, we can reach Every Girl. Everywhere. Period."
In November and December 2018, Pauline and Sue went out to visit all the schools IYH supports. In five of these communities, they teamEd up with TMO and the trainers from Days for Girls to deliver workshops and distribute reusable sanitary packs. The sixth school community benefitted from everything in February 2019 lead by Lamin from TMO.
PLEASE VISIT OUR BLOG PAGES FOR FULL REPORTS AND PICTURES
PERIOD POVERTY - Article by our IYH Youth Ambassador, Sophie Hudson

Too many girls and young women miss school because they do not have sanitary products.
So what is period poverty and why does it matter? Period poverty is when girls miss school because they do not have access to and/or cannot afford sanitary products and have poor knowledge about the changes that happen to them as they enter puberty.
Very, very many girls don't go to school for a week each month during their period.  They get behind on schoolwork because they don't understand or cannot keep up. 7 out of 10 children enrolled in Nepal's school reach grade 5, according to UNESCO. More than half of those children drop out of school before reaching secondary school. In rural communities, these statistics are so much higher.
The effects of period poverty.
The short and long-term effects are shocking.  Girls, especially those in rural communities, who drop out of school early often end up in an arranged marriage. By early marriage, we're talking about age 14 onwards. That's year 9 and 10 for us in the UK. It is not only early marriage that is a consequence for these girls.  Childbirth for these young girls soon after having their first period often causes frequent medical complications. At that early age, their bodies are just not developed enough to cope with childbirth. The lack of education on this topic also means an inability to progress and develop or change their own or family opportunity for the better.
What is the solution?
One way of helping these girls and young women is to educate them about menstrual health and provide each girl with a menstrual hygiene kit that includes reusable sanitary products.   An often asked question is 'Why not just buy sanitary products every month?'. The answer is simple. Disposable sanitary ware does not work in very low income communities. Most of these rural families live hand to mouth and do not have the money to spend on sanitary products every month.
In Your Hands ("IYH") is a charity benefiting communities in Nepal.  It has a Women's Health Project to help combat this very problem.
One of the charity's aims is to educate these communities about menstrual hygiene and health to enable all girls to stay in school for every week of the month. Its strategy involves partnering with an organisation called Days For Girls, based in Nepal, to deliver health workshops in the local language and distribute reusable sanitary kits.
IYH wants to help not only the children in the government schools the charity supports but also the communities they live in.  They are doing this by extending the benefits of the programme to all the women in the communities the charity works with. Extending the programme to all of these women is important because the success of the project relies on the support of the older women to encourage and ensure the girls use them.
IYH is rolling out it's first three menstrual hygiene workshops at the end of November 2018 to educate these girls women about menstrual health and hygiene. They will provide a reusable sanitary pack to every girl and woman who attends one of the workshops.   Each pack for a girl is about £8 and a postnatal pack for women to use after childbirth is about £10. These packs will enable women to work during their periods and enable girls to go to school.
Sophie Hudson, aged 16
Sydenham High School, London