This page is dedicated to the young people whom have gone further and contributed more than we could have hoped or expected. They all have their own reasons for being involved and helping children in a land far from their own. They have their own stories about how they have helped and we hope they continue to stay involved as long as they can. Youth can add a whole new dimension to a charity. They can help us see from a different point of view and they can help us to reach their age group and see things through their eyes. The benefits are endless.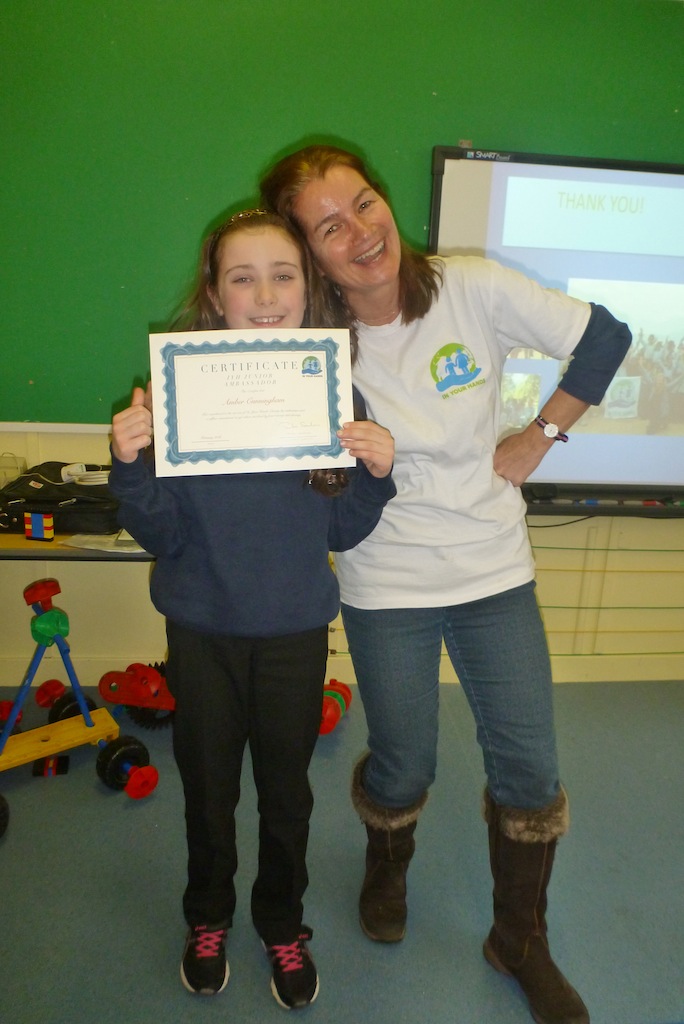 Our first Youth Ambassador is AMBER CUNNINGHAM from Aughnagatt Primary School in Aberdeen. The story started when she came to an Everestmax fundraising talk presented by Pauline in Mountain Cafe, Aviemore. At the end of an short presentation and a long slide show about Everestmax, Amber went up to Pauline and said, 'How can I help the children in Nepal?". Since that moment, an 8 year old little girl has made a huge difference!
Amber got her dad Norman involved, who along with his pal Ryan did a Highland sponsored run which raised lots of money which was match funded by his company px Ltd. Along with that Amber got her school involved. It is a small Highland school with around 40 children but they still managed to raise over £500 and were again match funded by px Ltd.
The story does not end there. Amber's enthusiasm and energy for IYH was embraced by her Head Teacher Mrs Thomson. Pauline was invited to make an IYH presentation and do another fund raising Everestmax talk (thanks again to Norman and Angela for all the arrangements). They handed over a giant cheque for over £6400  and now the school has every intention of staying in touch with their link school in Nepal. They have made videos to share and will make friends though the internet. There is also the hope that the children on both sides will learn a great deal about another culture, religion and economic class. It is an invaluable asset to Nepal, to have a UK school that is happy to help them with educational as well as economic support and friendship.
All of this because one 8 year old girl decided to care enough to do something about it. So we are very happy to pronounce Amber Cunningham as  Youth Ambassador for IYH.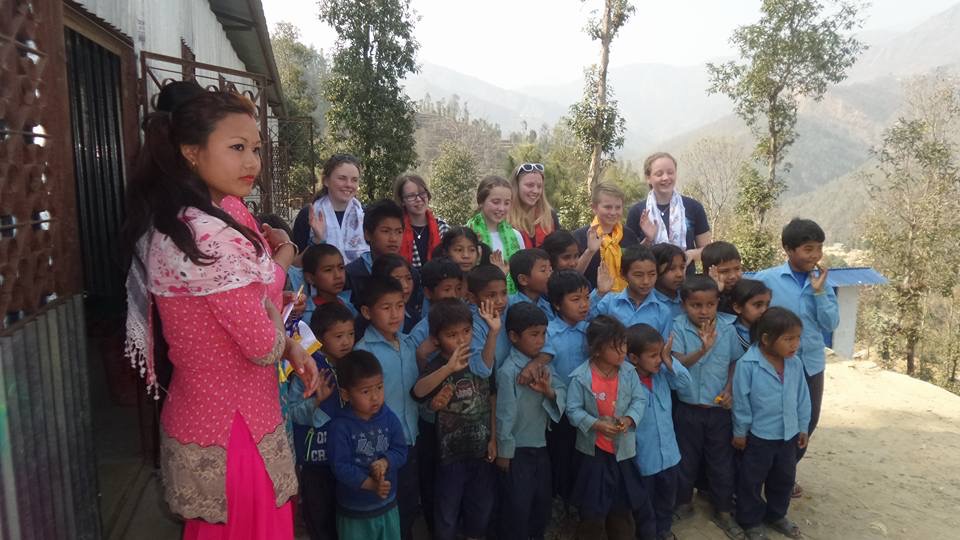 IYH YOUTH AMBASSADORS - Nepal 2017
In February 2017, several young people went with their parents to visit the IYH Projects in Nepal. Here are their stories and if you read them you will understand why we are proud to honour them with our IYH Youth Ambassador Award. They are now part of our team going into the future. Their compassion and energy for the IYH goals will make a huge difference among their pier groups. We want to thank them for not going on "holiday" to Nepal. Yes, they had fun and went sightseeing but their stories show they achieved so much more.
Sophie Hudson - Aged 14
On Tuesday the 14th February I was lucky enough to visit the schools that In Your Hands built.  We took a journey to Sita.  We took balloons and footballs with us for the school children. Once all the children were playing with the balloons and footballs the smiles on their faces were from one ear to the other.  Georgia, Amy, Noah, Xanthe and I got a few children into a circle and passed around a football. Meanwhile more children joined in with our game, which made the day better.
This particular school made me appreciate my school and the things I have because it made me realise that you don't need the new  iPhone, the newest clothes or the best wifi to be happy.  For these children they just wanted to go to school and get an education.  The biggest lesson that I learned that day, that it is easy to forget, is that when you can go to school and get an education take it and do your best because you might not have a better chance. 
Amy Morton - Aged 17
When I found out I was being given the opportunity to come to Nepal with the In Your Hands Charity, I was thrilled. However this experience hasn't been like anything I could've imagined, it's been better. 
The schools we've gone to are extremely remote and some of the students walk up to two hours each day to get to school. Siddhartha was a school we drove an hour up a steep, rocky, and twisting trail. There were about 40 kids and 2 classrooms. The classrooms were dusty, didn't have shelves or desks and only a couple windows for temperature. These are only a few things I've realized we take for granted. Despite the adversity these kids were overcoming, they had the same energy as other 4 year olds. After seeing some of the less fortunate schools, I'll be heading back to mine with a more appreciative perspective.
We went to an organic sanitation farm, so I learnt how for some girls menstruation can be a problem. In some cultures they're labelled as "unclean" and left outside to deal with their situation. This can be extremely insanitary as they don't have the proper resources needed. Furthermore, these girls have to miss that entire week of school. The owner of the sanitation farm began a solution for girls. She started hosting health camps to educate the girls on how to properly deal with their period and how to make the necessary tools. Now all the women in her community have the education and sources, and she's begun moving onto help other villages. I never thought that this would be an issue for some girls, but clearly it's very major for many of them. Such an important issue was fixed with a simple, yet brilliant solution.   
It never ceases to amaze me how much of a struggle it is for some students to receive an education. In Canada, I've never had a worry about my education so to be able to come to Nepal and see how different it is was fantastic.
Georgia Coombes - Aged 14 
On Friday 10th February 2017, I travelled to Nepal with In Your Hands. Whilst there we visited 6 IYH infant/junior schools and two secondary schools, the IYH  schools were in remote, rural areas that took hours to get to with incredible views and steep inclines. 
The major shock I got from this trip was that girls were not allowed to go to school, or indeed do much, when they had their period. As they were bleeding, the men said that they were unclean and in the worst circumstances, women or girls would be put in the animal sheds for the duration of their period. One of the main issues with this is that they have no way of 'containing' the bleeding. Whilst in Nepal we went to two women's work shops where they made reusable sanitary pads out of a breathable fabric. In Your Hands is working closely with these workshops so that girls can learn how to make them with out having to buy them. Along with this, In Your Hands is giving girls a sanitary pack to use at school during this time. It includes: 6 removable and washable pads, 2 holders for the pads, 2 pairs of pants and 2 pouches so that the girls are able to take a spare to school. By the girls receiving the packs, this means that they can go to school during menstruation instead of missing a week of school each month.
The main thing that I will take away from this experience is the time we spent at the schools. It has only been two years since the Nepal Earthquake of 2015 yet most of the IYH schools have been rebuilt with concrete floors and walls, with a sturdy roof. This has created an amazing place for these children to learn. I will never forget the smiles on the children's faces as we walked in with balloons and soccer balls for them to play with. 
Overall, I know that the people involved with IYH have a passion and really care about the education of children following the Nepal Earthquake. I think that IYH is doing an amazing job at helping with children's education, health and female hygiene. 
Darcie Alabaster - Aged 13
The 10th of February, I was lucky enough to come to Nepal to help out In Your Hands.
We visited six Nepali schools, which were all in remote, rural places and they were all very badly damaged by the earthquakes in 2015.
The schools that In Your Hands helped out were amazing. Shree Jugal Lower Secondary School and the In Your Hands school in Gorkha I thought were the two best. The school in Gorkha was originally the worst school in the area, and after help from In Your Hands, it became the best in the area! 
The Siddartha and Sita schools were my favourites. We gave the children's balloons and footballs to play with. They were all so excited and had so much fun just playing around with each other. It was so nice and refreshing to see the smiles on their faces.
We had some days were we just relaxed or had fun. On one day, we went rafting and jumped off of 'The Jumping Rock'.
The country is very vibrant and beautiful. I would recommend anyone to volunteer because it leaves you happy and satisfied. The smiles on the children's faces just make your day.
Xanthe Hudson - Age 11
Whilst I was in Nepal I begun to realise that there is so much we take for granted in our first world lives. After visiting 6 schools all in very remote and I noticed many of them were made of tin. This means that it would be boiling hot in the summer and freezing cold in the winter. Simple windows and brick or plastered walls can help control the heat. I know that when I'm in school I think of that as nothing, I also know that schools in Nepal are in desperate need of these basic supplies.  In Your Hands are helping to re-build these schools and make them better.
All of the schools were in very remote, rural areas which had been badly damaged in the earth quakes. Each of the schools has been repaired or rebuilt by In Your Hands. Children's education has been changed for the better and families are starting to see why it is so important to send their kids to school.
When we visited our school in Sita we brought with us balloons, books, footballs and more. All of the children loved the balloons and footballs especially as all of us joined in and played with them. It was great fun and I felt so great to be helping kids that have not been as lucky as me.
We also helped with some of the 2 day teacher training that In Your Hands ran for the Nepali teachers. We chatted to the teachers in groups to help them practice their English.
We didn't spend all our time on the charity though.  We also had so much fun. We did some rafting, shopping, had loads of adventures and a did a bit sight seeing.
Noah Hassan - Age 12
I went to Nepal with my mom who is a Rotarian in Prince Edward Island, Canada and  In Your Hands charity. 
We went to six schools that In Your Hands supports. Then we went to two secondary schools that In Your Hands might support.
We went to a school called Sita and there are one hundred and thirty students. We took a bunch of footballs and balloons for all the kids. A few of the volunteers set up a game for the kids to play football. Some of them blew up the balloons and handed them out. The kids were having an amazing time, having so much fun they started passing the football back and forth and throwing the balloons to each other.
When we went to all of those schools I realized how lucky we are to have computers in my school. Some of the schools can't afford computers. In Canada we have a bus or car to take us to school. Some of the kids and teachers have to walk two hours to get to school in Nepal.
When we went in the class rooms a few schools didn't have any desks and they were sitting on the floor. We went to a school that is partners with a school in Canada. It had fencing around it but it was barb wire. In Your Hands will replace that with normal fences. The reason they had barb wire was because it was the cheapest to buy.
I have had an amazing time in Nepal. I have met many great people like Denish, Milan and Mahendra who have shown me Nepal. Thank you In Your Hands and Rotary. I will visit again, I love Nepal!
In February 2018The IYH Young Ambassadors Club have been out to Nepal to visit the schools we support with their help. 
They have each written a report on their experiences. Please take the time to read each one as they are all inspiring and you can judge for yourself, but I don't think you can fake this level of sincerity. They have all given and received a huge amount.
WILL HOLMES: Age 17 from Dulwich College, London
It was vastly overwhelming as we were garnered with tika (deep rouge powder) and khata scarves. An honorary blessing. It was vastly overwhelming as we walked down a column of cheering children. I didn't quite know how to react but it was clear how much In Your Hands' work meant to everyone there. We sat through several speeches with the whole school but later managed to have some fun with the children, playing catch with a rugby ball and also blowing bubbles.
We had similar experiences at all of the schools we visited, where we handed out new school uniforms and played and read with the children. We brought out computers for one secondary school which also made it apparent how disadvantaged these schools were compared with schools in the UK. We also visited a private school in Kathmandu where we gave a talk on nutrition.

Overall it was both a wonderful and shocking trip. From playing catch with the school children, praying with monks in a monastery, being thrown around in a land rover on mountain roads, to being approached by drug dealers in the streets of Kathmandu, I enjoyed every minute of the trip.
JOEL LEWIS: Age 13, Dr Challoners Grammar School, Amersham 
I visited Nepal in February 2018 with my Mum and lots of other In Your Hands supporters. During our week we visited 5 rural schools that had been severely affected during the earthquakes in 2015. In Your Hands have rebuilt these schools and are now providing training for the teachers and teaching resources.
We took bubbles and footballs and played games with the children. Jane, who is a supporter of IYH and a teacher in England, read them books and helped them develop their English language skills. We also visited another school in Kathmandu where we taught some students about healthy eating. At one school, we delivered £4,000 worth of computers and laptops that had been donated by a school in Thailand and the school was very grateful of them! 

I really enjoyed visiting Nepal and helping In Your Hands. I will definitely go next year!
JOSH HUDSON: Age 17, Dulwich College, London
The first time I visited Nepal in 2014 I was there volunteering at a school with my mum and sisters.  It was completely shocking as there were plenty of children who chose not to go to school.  Having returned four years later it's great to see the impact that In Your Hands has had as children now have more incentives to go to school. At Gorkha school there are now free school lunches which encourage children to come to school as it guarantees them a warm meal.  Shree Jugal Lower Secondary School now has running water and toilets.
It was amazing to see the positive impact that In Your Hands has had on all the things we take for granted. My favourite moment was seeing a small Nepalese boy suddenly liven up when bubbles were being blown and watching him jump as high as he could to try to pop them. Seeing that level of enjoyment in all the children when their schools received rugby balls, footballs, stickers, bubbles, books and warm school uniforms made me truly appreciate what the charity is trying to and has succeeded in accomplishing.
SEBASTIAN ALABASTER: Age 13, Bickley Park School, London
This was my first time in Nepal and I wasn't sure what to expect.  Kathmandu was mad; so busy, and energetic. There was so much going on! 
There was so much colour everywhere, and lots of new experiences like the Buddhist and Hindu temples.
I will never forget our first trip to the schools. The roads were incredibly bumpy and very steep but they took us up to the remote schools that In Your Hands is helping.
All the children were incredibly happy to see us, and it was really interesting to see how they live and what the schools are like.
I especially enjoyed teaching the children how to play rugby. Definitely some future stars there!
It was tough to see how little they have, but equally amazing to see how much of a difference In Your Hands has made to their lives.
I think what the Charity is doing is brilliant!
By the end, I was exhausted and overwhelmed by everything I had seen.
It has made me really appreciate what we have at home, and made me even more determined to continue changing lives with In Your Hands.
JULIA JETTE BOVAIRD: Age 16, Canada
Initially I chose to fundraise for the schools in Nepal as part of a school project. Through selling baked goods and greeting cards, and gaining the support from my Key Club at school, we had enough money to buy many books for the schools as well as socks for the kids. Taking two weeks off from school to travel to these schools was not easy, but it was well worth it.It was such an educational and important experience, and I would repeat it in a heartbeat.
The moment we drove up to the first school and I saw the children all lined up was when I really realized how many people we had an effect on. Not only the kids, but the teachers, parents, and families. While watching them receive their uniforms and books and witnessing the resulting excitement, I noticed that I was just as excited and honoured to receive scarves, tikka, and flower necklaces from them. Having their happiness reflected in myself was a truly amazing experience and I can't wait to be able to do it again.
DARCIE ALABASTER: Age 14, Bromley High School, London
I was excited to go to Nepal again for the second time. I couldn't wait to see the schools again, the monastery, and Kathmandu.
The roads were long and winding, as they travelled up the mountains to the schools. The whole time you could see the Himalayas lingering in the distance.
We visited the same schools as last time, as well as some new ones. 
It was fun playing with the children, and the joy on their faces as we brought their new school uniforms was outstanding.
Their English was amazing as well, and at one school they got one of their students to say a piece she memorised in English, out to her school. Some teachers also spoke in English, which was also awesome.
Kathmandu was crowded and full of energy. It is a city, built around the culture and beliefs of the people, which won't allow some earthquakes ruin that. It is stunning and interesting. I really enjoyed learning about the beliefs of the people, as we visited 3 sacred temples in Kathmandu, one which was Buddhist and the other two were Hindu.
We visited another Buddhist temple, and watched the monks as they did their evening rituals. It was hypnotic and amazing to hear as they said their chants in a melody.  
Overall, the trip was outstanding. You can't help but be blown away by the beauty of Nepal, and I am grateful and honoured that I got to help the children out in the middle of nowhere.
I feel thankful for the privilege I have been born with and I would love to go back out there to help those children again.
SOPHIE HUDSON: Age 15, Sydenham High School, London
In February 2017 I went out with In Your Hands to visit the schools they were rebuilding and it was an enriching experience, so much so that I wanted to come back. My school, Sydenham High School, has a sister school that we rebuilt after the earthquake in 2015. It is incredibly rewarding to see that the money we have raised has gone to a fantastic use rebuilding Shree Jugal Lower Secondary School.
This year when we visited we gave the children their new uniforms that a Rotary  Group on Prince Edward Island in Canada helped to fund. The new shirts, trousers, skirts, leggings, shoes and fleeces was really nice to see.  It was even more rewarding to hear the children talk about them and how happy they are for the new clothes. They were immeasurably happy when they were told they would be getting some new uniforms that would keep them warm during the rainy and winter months.  In Your Hands also brought books out to aid the children learning in every school. Reading these picture books to the children and watching them get involved with the actions was incredible and so much fun. 
 Teaching the children at the school in Gorkha head shoulder knees and toes with Jane along with passing a ball in a circle asking question such as 'How old are you?' and 'What is your favourite subject?' Was great.  I was surprised to be able to have a continuous conversation with the children in the Gorkha school because it showed me how worth while and vital it is to have volunteers teaching them English. It will always continue to surprise me amount of improvement in each school and I would love to be able to volunteer at one of the schools in the future. 
There are three things that I won't forget. The first thing was their adorable smiles from one ear to the other when they were wearing their new uniforms. The second thing was the reminder that even the little things that many of us take for granted can mean so much and impact others who are less fortunate in ways we wouldn't be able to imagine. Finally, the last thing that I realise every time is that life is not sugar coated. For some  people they want the latest iPhone or the newest shoes, yet we often forget how lucky we really are. This was an eye opening experience and I could not describe in so many words the positive impacts this charity has on each individual child and school and on me. I would do anything to go back and be a part of the breathtaking working with In Your Hands.


XANTHE HUDSON: Age 13, Sydenham School, London
This year I was lucky enough to return to Nepal for my fourth time. Visiting the IYH schools and seeing children so eager and excited to go to school has once again really made me so grateful for my education. Being a part of In Your Hands has really shaped my future and me as a person. When I first visited Nepal in 2014 we volunteered at a small school just outside Kathmandu.
After the earthquakes in April 2015 we visited two of the schools that were going t be rebuilt by In Your Hands. The schools were just tents as classrooms with a couple of books as learning resources. Since our first visit it has been great to see all the improvements including lots of useful resources for them to make learning fun.
This year we handed out warm uniforms to all the children. They were all so happy and excited to receive them. We also gave them a range of books for all different age categories, games, toys and bubbles.
It is such a rewarding experience to be able to help these children learn and improve skills that they will use later on in their lives. I have loved being able to recognise the same kids each year.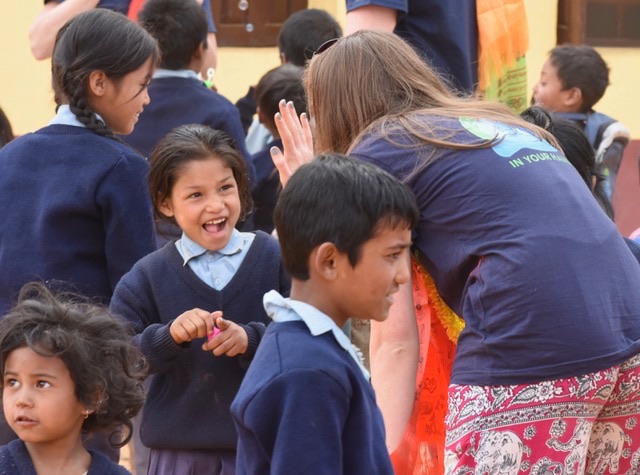 IN 2020 A GROUP OF YOUTH IYH SUPPORTERS VISITED NEPAL TO VOLUNTEER AT ONE SCHOOL AND SUPPORT THE DELIVERY OF A WOMENS HEALTH WORKSHOP AT ANOTHER SCHOOL COMMUNITY.HERE IS WHAT THEY WANTED TO SAY ABOUT THIER EXPERIENCE
 Gala Hodgson (picture above)
My trip to Nepal in February 2020 with In Your Hands was the most amazing adventure I have ever had and I have made memories and friendships that I will always treasure. 
Prior to the trip, I didn't have much volunteering experience (especially not with children) but this didn't hold me back at all. The days we spent volunteering in the schools were so incredible and although I was told these schools were rural, I didn't quite realise how rural we were going until we were greeted by smiling and waving children running down to school as we made the bumpy 2 hour jeep ride up to Shree Sundara Devi Basic School. Although we only visited 2 different schools, I feel I gained a real sense of perspective on what education means to the Nepali children and how much they value the help that In Your Hands brings them. The reactions we received for the books, stationary and playing equipment we bought to the schools was so rewarding and heart-warming, the parachute went down particularly well! 
One of my favourite parts of the trip was the women's workshop we did at Shree Songhai Devi. It was so fantastic to see so many women from such a close-knit community interacting with each other and learning about topics so relevant to them such as hygiene and menstrual health. To be a part of this through giving demonstrations and listening to what the women had to say was truly an experience I will never forget. Giving out The Days For Girls packs at the end of the workshop was another major highlight for me!
As well as the volunteering, I found myself infatuated with the culture of Nepal and the way of life. Kathmandu was brilliant and a great contrast to the rural areas we had been staying in previously. It was so uplifting to be greeted every day with such kind, smiley faces everywhere we went. The IYH trip has taught me lessons I will carry with me forever and it has also inspired me to return to Nepal to carry on with volunteering.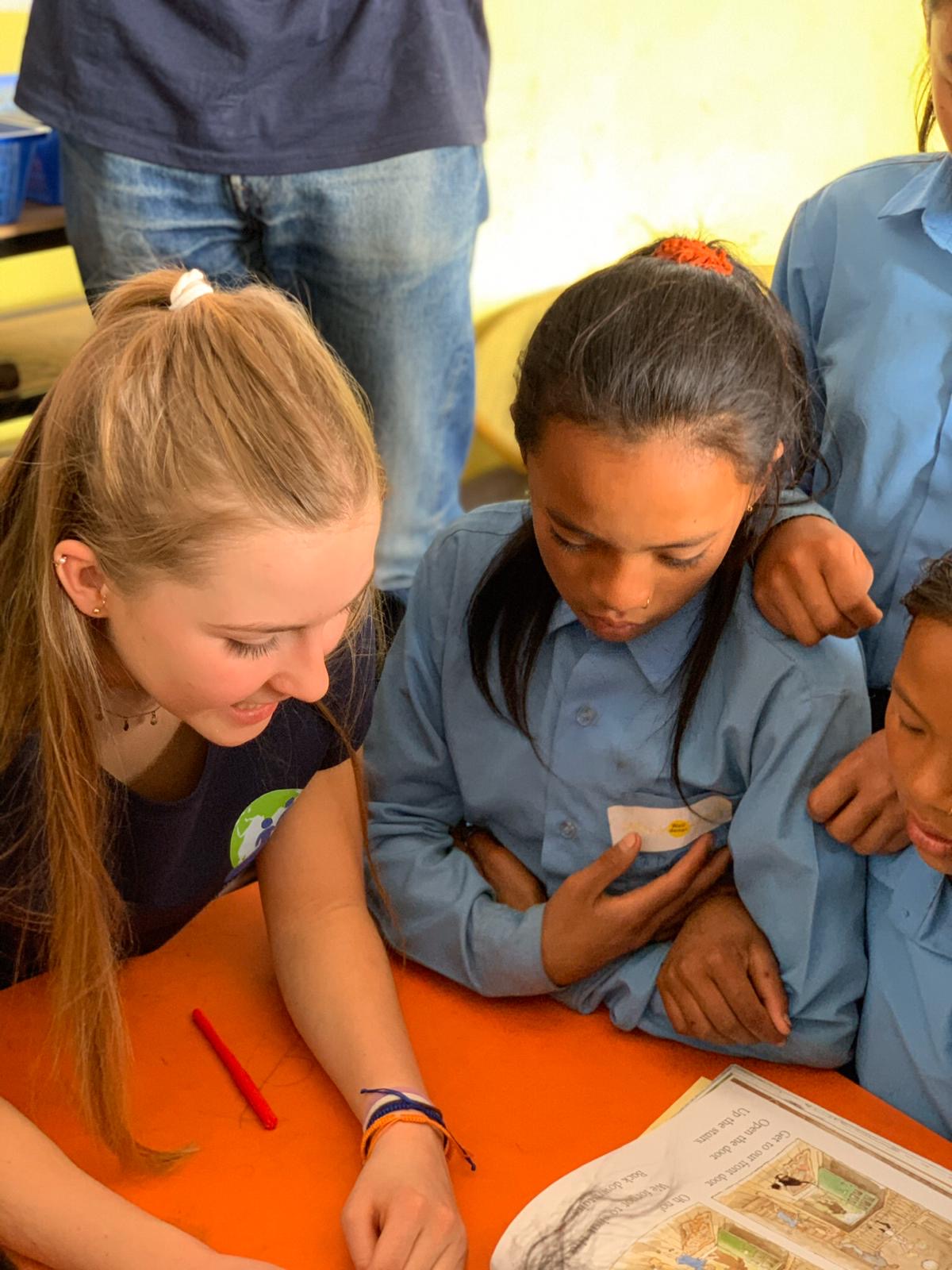 RUBY SINN (picture above)
In the first school we visited close to Sukute we got to watch one of the Days For Girls period workshops which were being funded by In Your Hands.  When visiting the village during the workshop, we were amazed to find that every single woman in the village had gone to the workshop and left it almost deserted! This was so encouraging as it showed that In Your Hands had managed to make women's health much more of a priority in the society and they understood the importance of our workshop. We also got to see some of the new lunches that were funded by the charity which looked delicious!
My favourite thing we got to do was to teach English to the children in Sundara Devi school.  We did this by teaching them simple songs and reading them some of our favourite childhood books. One of the things I liked the most was the sheer enthusiasm they had for the most repetitive tasks. They were just as excited on the 7th round of head shoulders knees and toes as the first! It made me realise how much they appreciated the education and lessons that In Your Hands were providing.
TOR LOVELL (picture above)
Our trip to Nepal with IYH was one of the best and most inspirational and incredible experiences I've had yet, it has made me want to return and to help as much as I can, not just because of all the brilliant work that the charity does but also the culture and way of the people of Nepal. It is a kind and gentle country despite what they have suffered through and how little they have.
It was a shock coming back home afterwards definitely and witnessing such a difference between our countries but it only makes you realise just how much we have and how, no matter your circumstance, there's always an opportunity for happiness wherever you go. 


ROSE SINN (in above photo)

I was quite nervous before we left for Nepal. I have never travelled to a a third world country before and certainly never volunteered with a charity.
 However, when I arrived I soon realised how relaxed and safe the environment was and how welcoming the locals were
 The trip was so well organised and we were so looked after. They made sure we were always well fed, and informed, and we always felt safe with the people looking after us.
 The highlight of the trip was definitely visiting the 2 x schools. It was rare for them to get visitors and we were treated like royalty! How cute the children were who had all been practising their English and queued up to greet us. And how much fun we had playing with them and singing songs.
One of my favourite moments was when then peaked through the classroom door where we were blowing up balloons. They gasped with excitement when they saw them- I don't think they had ever seen them before- their faces were such a picture.
It feels like a real privilege to have been given this experience and be part of charity that is so important to these children and their families. I have made memories that I will treasure forever.