This page is dedicated to the young people whom have gone further and contributed more than we could have hoped or expected. They all have their own reasons for being involved and helping children in a land far from their own. They have their own stories about how they have helped and we hope they continue to stay involved as long as they can. Youth can add a whole new dimension to a charity. They can help us see from a different point of view and they can help us to reach their age group and see things through their eyes. The benefits are endless.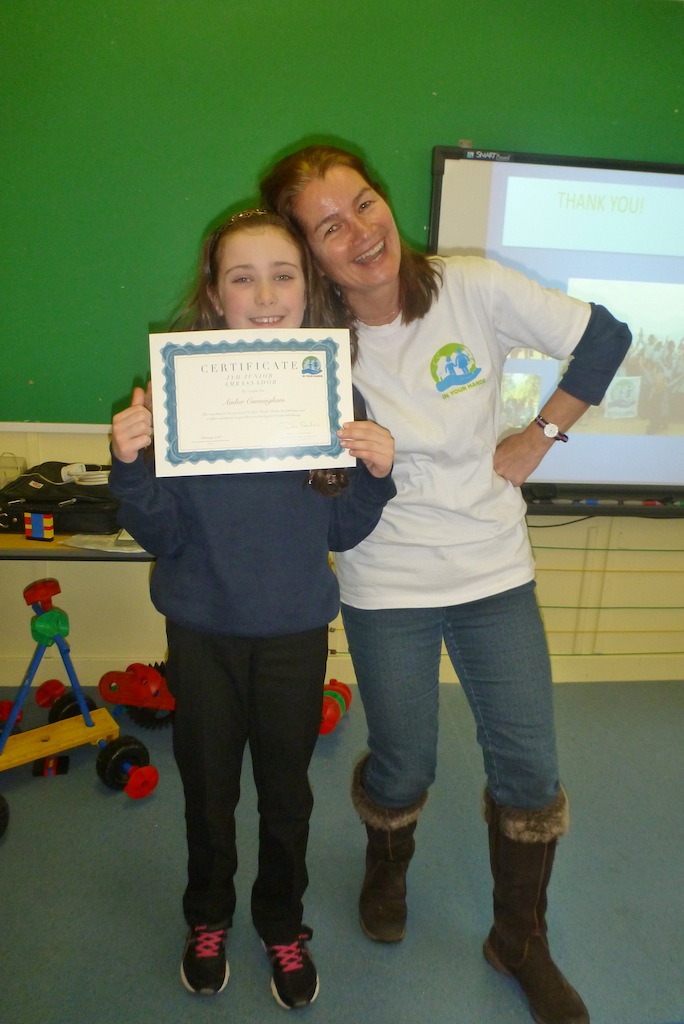 Our first Youth Ambassador is AMBER CUNNINGHAM from Aughnagatt Primary School in Aberdeen. The story started when she came to an Everestmax fundraising talk presented by Pauline in Mountain Cafe, Aviemore. At the end of an short presentation and a long slide show about Everestmax, Amber went up to Pauline and said, 'How can I help the children in Nepal?". Since that moment, an 8 year old little girl has made a huge difference!
Amber got her dad Norman involved, who along with his pal Ryan did a Highland sponsored run which raised lots of money which was match funded by his company px Ltd. Along with that Amber got her school involved. It is a small Highland school with around 40 children but they still managed to raise over £500 and were again match funded by px Ltd.
The story does not end there. Amber's enthusiasm and energy for IYH was embraced by her Head Teacher Mrs Thomson. Pauline was invited to make an IYH presentation and do another fund raising Everestmax talk (thanks again to Norman and Angela for all the arrangements). They handed over a giant cheque for over £6400  and now the school has every intention of staying in touch with their link school in Nepal. They have made videos to share and will make friends though the internet. There is also the hope that the children on both sides will learn a great deal about another culture, religion and economic class. It is an invaluable asset to Nepal, to have a UK school that is happy to help them with educational as well as economic support and friendship.
All of this because one 8 year old girl decided to care enough to do something about it. So we are very happy to pronounce Amber Cunningham as  Youth Ambassador for IYH.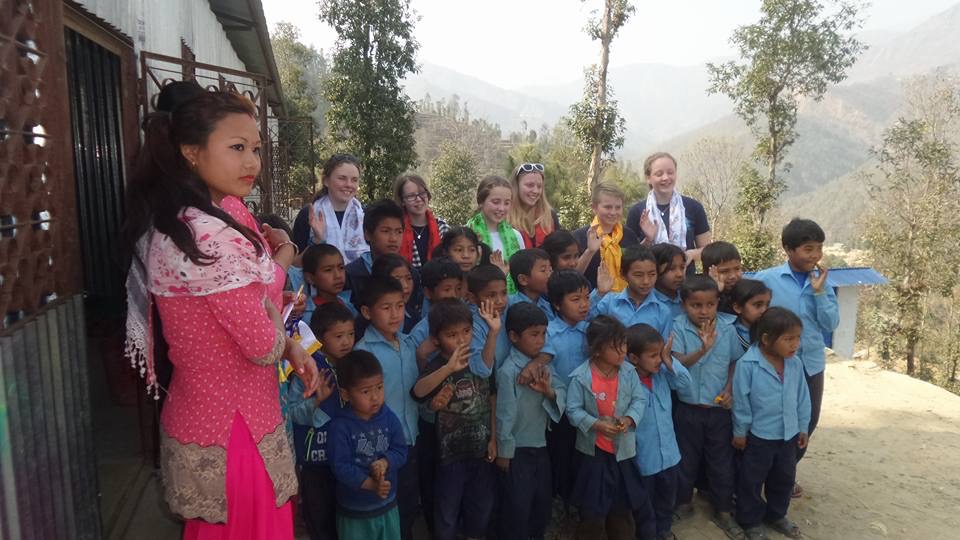 IYH YOUTH AMBASSADORS - Nepal 2017
In February 2017, several young people went with their parents to visit the IYH Projects in Nepal. Here are their stories and if you read them you will understand why we are proud to honour them with our IYH Youth Ambassador Award. They are now part of our team going into the future. Their compassion and energy for the IYH goals will make a huge difference among their pier groups. We want to thank them for not going on "holiday" to Nepal. Yes, they had fun and went sightseeing but their stories show they achieved so much more.
Sophie Hudson - Aged 14
On Tuesday the 14th February I was lucky enough to visit the schools that In Your Hands built.  We took a journey to Sita.  We took balloons and footballs with us for the school children. Once all the children were playing with the balloons and footballs the smiles on their faces were from one ear to the other.  Georgia, Amy, Noah, Xanthe and I got a few children into a circle and passed around a football. Meanwhile more children joined in with our game, which made the day better.
This particular school made me appreciate my school and the things I have because it made me realise that you don't need the new  iPhone, the newest clothes or the best wifi to be happy.  For these children they just wanted to go to school and get an education.  The biggest lesson that I learned that day, that it is easy to forget, is that when you can go to school and get an education take it and do your best because you might not have a better chance. 
Amy Morton - Aged 17
When I found out I was being given the opportunity to come to Nepal with the In Your Hands Charity, I was thrilled. However this experience hasn't been like anything I could've imagined, it's been better. 
The schools we've gone to are extremely remote and some of the students walk up to two hours each day to get to school. Siddhartha was a school we drove an hour up a steep, rocky, and twisting trail. There were about 40 kids and 2 classrooms. The classrooms were dusty, didn't have shelves or desks and only a couple windows for temperature. These are only a few things I've realized we take for granted. Despite the adversity these kids were overcoming, they had the same energy as other 4 year olds. After seeing some of the less fortunate schools, I'll be heading back to mine with a more appreciative perspective.
We went to an organic sanitation farm, so I learnt how for some girls menstruation can be a problem. In some cultures they're labelled as "unclean" and left outside to deal with their situation. This can be extremely insanitary as they don't have the proper resources needed. Furthermore, these girls have to miss that entire week of school. The owner of the sanitation farm began a solution for girls. She started hosting health camps to educate the girls on how to properly deal with their period and how to make the necessary tools. Now all the women in her community have the education and sources, and she's begun moving onto help other villages. I never thought that this would be an issue for some girls, but clearly it's very major for many of them. Such an important issue was fixed with a simple, yet brilliant solution.   
It never ceases to amaze me how much of a struggle it is for some students to receive an education. In Canada, I've never had a worry about my education so to be able to come to Nepal and see how different it is was fantastic.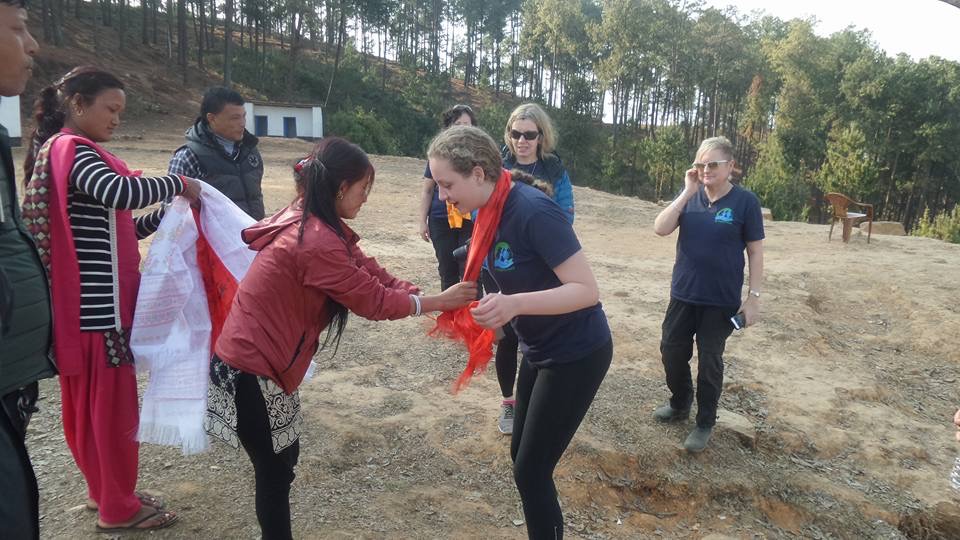 Georgia Coombes - Aged 14 
On Friday 10th February 2017, I travelled to Nepal with In Your Hands. Whilst there we visited 6 IYH infant/junior schools and two secondary schools, the IYH  schools were in remote, rural areas that took hours to get to with incredible views and steep inclines. 
The major shock I got from this trip was that girls were not allowed to go to school, or indeed do much, when they had their period. As they were bleeding, the men said that they were unclean and in the worst circumstances, women or girls would be put in the animal sheds for the duration of their period. One of the main issues with this is that they have no way of 'containing' the bleeding. Whilst in Nepal we went to two women's work shops where they made reusable sanitary pads out of a breathable fabric. In Your Hands is working closely with these workshops so that girls can learn how to make them with out having to buy them. Along with this, In Your Hands is giving girls a sanitary pack to use at school during this time. It includes: 6 removable and washable pads, 2 holders for the pads, 2 pairs of pants and 2 pouches so that the girls are able to take a spare to school. By the girls receiving the packs, this means that they can go to school during menstruation instead of missing a week of school each month.
The main thing that I will take away from this experience is the time we spent at the schools. It has only been two years since the Nepal Earthquake of 2015 yet most of the IYH schools have been rebuilt with concrete floors and walls, with a sturdy roof. This has created an amazing place for these children to learn. I will never forget the smiles on the children's faces as we walked in with balloons and soccer balls for them to play with. 
Overall, I know that the people involved with IYH have a passion and really care about the education of children following the Nepal Earthquake. I think that IYH is doing an amazing job at helping with children's education, health and female hygiene. 
Darcie Alabaster - Aged 13
The 10th of February, I was lucky enough to come to Nepal to help out In Your Hands.
We visited six Nepali schools, which were all in remote, rural places and they were all very badly damaged by the earthquakes in 2015.
The schools that In Your Hands helped out were amazing. Shree Jugal Lower Secondary School and the In Your Hands school in Gorkha I thought were the two best. The school in Gorkha was originally the worst school in the area, and after help from In Your Hands, it became the best in the area! 
The Siddartha and Sita schools were my favourites. We gave the children's balloons and footballs to play with. They were all so excited and had so much fun just playing around with each other. It was so nice and refreshing to see the smiles on their faces.
We had some days were we just relaxed or had fun. On one day, we went rafting and jumped off of 'The Jumping Rock'.
The country is very vibrant and beautiful. I would recommend anyone to volunteer because it leaves you happy and satisfied. The smiles on the children's faces just make your day.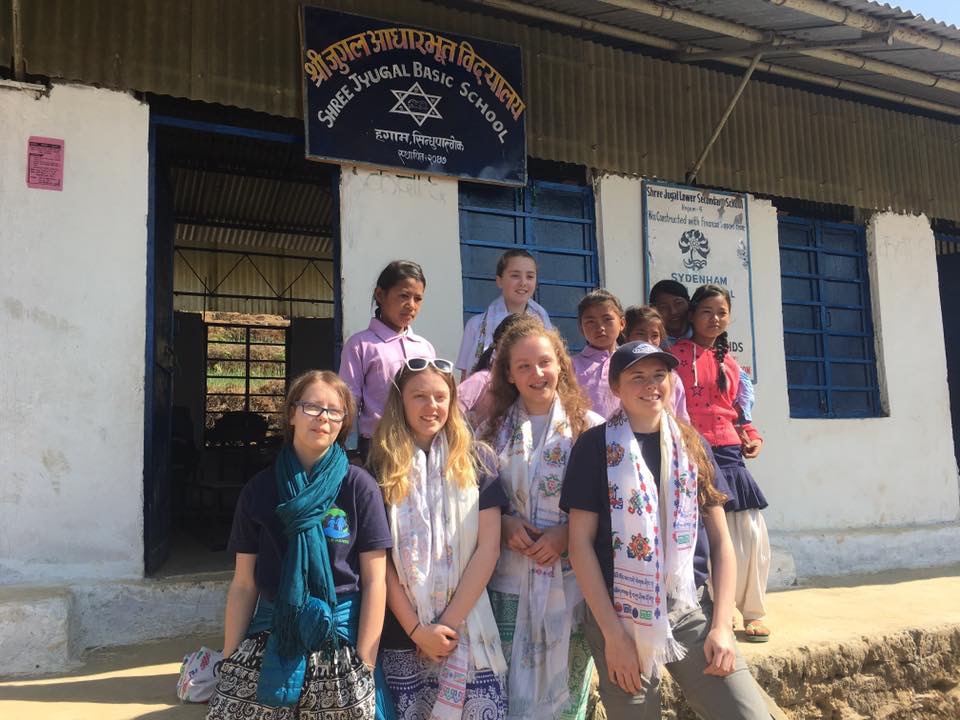 Xanthe Hudson - Age 11
Whilst I was in Nepal I begun to realise that there is so much we take for granted in our first world lives. After visiting 6 schools all in very remote and I noticed many of them were made of tin. This means that it would be boiling hot in the summer and freezing cold in the winter. Simple windows and brick or plastered walls can help control the heat. I know that when I'm in school I think of that as nothing, I also know that schools in Nepal are in desperate need of these basic supplies.  In Your Hands are helping to re-build these schools and make them better.
All of the schools were in very remote, rural areas which had been badly damaged in the earth quakes. Each of the schools has been repaired or rebuilt by In Your Hands. Children's education has been changed for the better and families are starting to see why it is so important to send their kids to school.
When we visited our school in Sita we brought with us balloons, books, footballs and more. All of the children loved the balloons and footballs especially as all of us joined in and played with them. It was great fun and I felt so great to be helping kids that have not been as lucky as me.
We also helped with some of the 2 day teacher training that In Your Hands ran for the Nepali teachers. We chatted to the teachers in groups to help them practice their English.
We didn't spend all our time on the charity though.  We also had so much fun. We did some rafting, shopping, had loads of adventures and a did a bit sight seeing.
Noah Hassan - Age 12
I went to Nepal with my mom who is a Rotarian in Prince Edward Island, Canada and  In Your Hands charity. 
We went to six schools that In Your Hands supports. Then we went to two secondary schools that In Your Hands might support.
We went to a school called Sita and there are one hundred and thirty students. We took a bunch of footballs and balloons for all the kids. A few of the volunteers set up a game for the kids to play football. Some of them blew up the balloons and handed them out. The kids were having an amazing time, having so much fun they started passing the football back and forth and throwing the balloons to each other.
When we went to all of those schools I realized how lucky we are to have computers in my school. Some of the schools can't afford computers. In Canada we have a bus or car to take us to school. Some of the kids and teachers have to walk two hours to get to school in Nepal.
When we went in the class rooms a few schools didn't have any desks and they were sitting on the floor. We went to a school that is partners with a school in Canada. It had fencing around it but it was barb wire. In Your Hands will replace that with normal fences. The reason they had barb wire was because it was the cheapest to buy.
I have had an amazing time in Nepal. I have met many great people like Denish, Milan and Mahendra who have shown me Nepal. Thank you In Your Hands and Rotary. I will visit again, I love Nepal!